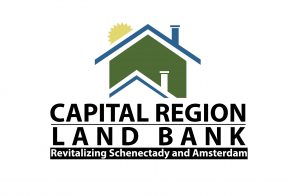 The mission of the Capital Region Land Bank is to strengthen neighborhoods by mitigating blight.
The Capital Region Land Bank is a 501 C (3) nonprofit created by Inter-municipal agreement between the Cities of Schenectady and Amsterdam and Schenectady County, administered by the Schenectady Metroplex Development Authority
BOARD MEETING CALENDAR 2021
Unless posted below, board meetings will take place, as needed, the third Tuesday of the month at 4:30 pm.
Next Scheduled Meeting: October 19, 2021 @ METROPLEX- 433 State Street, 4th Fl Schenectady and via WEBEX.  If you would like to attend in person or via Webex please contact the Executive Director in advance to register.
All board meetings will be broadcasted live via YouTube.
Please contact the Executive Director with any questions.
Capital Region Land Bank news is available on the Metroplex homepage, Facebook or Twitter.
DOCUMENTS