SCHENECTADY, NY — The Downtown Schenectady Improvement Corporation (DSIC) hosted a ribbon cutting ceremony today to mark the opening of Herbie's Burgers on Jay Street in downtown Schenectady.
"There is a lot of anticipation and excitement when a new business comes to downtown Schenectady, starting with the guessing on what is opening to the build out phase when we all want to peak in the windows, to the awning going up to meeting the new owner and finally, trying the product!  I think we all agree that Herbie's Burgers is a wonderful addition to the area, giving us another delicious choice on Jay Street," said Carney McGuire, DSIC Interim Executive Director.
"I love the sense of community downtown and especially on Jay Street", said Herbie's Burgers founder Nick Warchol. "Everyone has been very welcoming of us, and it's left a great impression."
He went on to say, "We're looking forward to becoming a part of the downtown scene and really being a part of all the resurgence downtown.  It's a great place to be and the Jay Street location is unlike any other location."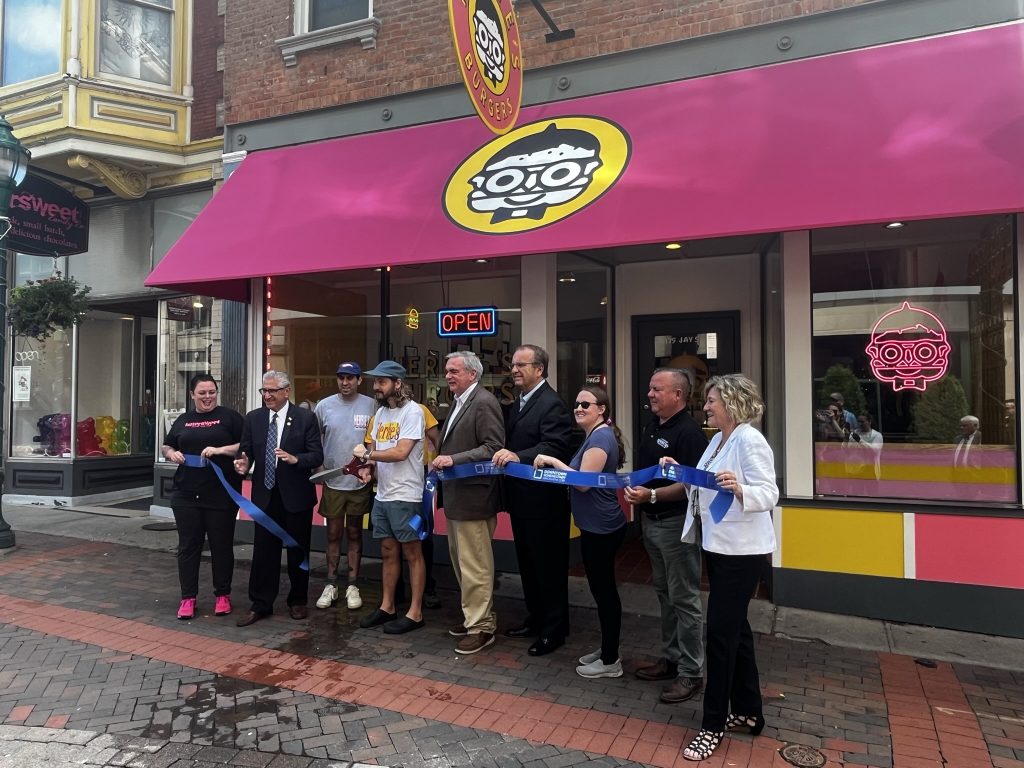 Attending the ribbon cutting were City of Schenectady Mayor Gary McCarthy, NYS Senator Jim Tedisco, Chair Ray Gillen of Schenectady Metroplex Development Authority, Executive Director Todd Garofano of Discover Schenectady, Owner Heather Lent of Bittersweet Candy and a representative for Assemblyman Angelo Santabarbara.  Also in attendance was the team from Herbie's Burgers and founder Nick Warchol.
Herbie's Burgers is located at 175 Jay Street, Schenectady NY 12305.  Open 7 days a week from 11AM-2AM.  Delivery, eat in or take out.  518-280-1814